We can proudly inform that ISRO set to create history with launch of 20 satellite today. The PSLV-C34 is set to lift the 3rd satellite in the Cartosat-2 series and an Indian record-making 19 small satellites into space at 9.26 a.m. on Wednesday 22-06-2016. It will be the 36th PSLV launcher to fly from the Satish Dhawan Space Centre, Sriharikota. The current Cartosat-2 spacecraft is an Earth observation spacecraft and will be put into a pole-to-pole orbit 515 km from surface.
The spacecraft is said to offer the best resolution of less than a metre on an Indian satellite, going as sharp as 60 cm. That is a measure of the smallest size of objects it can pick up on Earth.
17 minutes and 7 seconds after lift-off, the launcher is programmed to release 20 satellites in a sequence into nearby orbits. It will take less than ten minutes. The entire launch will take 26 minutes and 30 seconds.This is the highest number of deployments by an Indian launcher.

Here is what you need to know about the latest launch by Indian space agency : 20
Fact's
20 Fact's :-
1) According to Isro, the total weight of all the 20 satellites is about 1,288 kg.
2) It will be the fourteenth flight of PSLV in 'XL' configuration (with the use of solid strap-on motors).
3) Cartosat-2 Series is similar to the earlier Cartosat-2, 2A and 2B, and 19 co-passenger satellites together weighing about 560 kg at lift-off would be injected into a 505-km polar Sun Synchronous Orbit.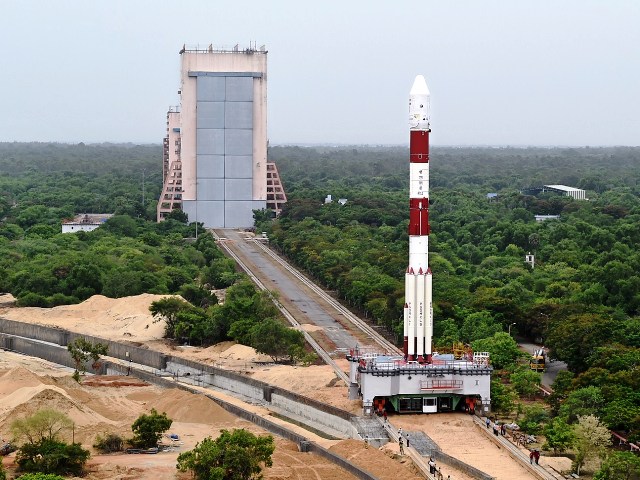 4) The co-passengers include satellites from the US, Canada, Germany and Indonesia as well as two satellites from Indian Universities.
5) The mission would carry LAPAN A3 of Indonesia, BIROS of Germany, SKYSAT GEN 2-1 of US, MVV of Germany among the micro satellites, Isro sources had earlier said.
6) The imagery sent by the satellite would be useful for cartographic applications, coastal land use and regulation, utility management like road networking, water distribution, creation of land use maps, precision study, change detection to bring out geographical and manmade features.
7) Spacecraft health checks and preparations for propellant filling operation of second stage (PS2) of PSLV-C34 is in progress.Countdown is progressing normally.
8) A 48-hour countdown activity for the launch started on Monday at 9.26 am and Isro said it is progressing smoothly.The countdown began after the launch authorisation board (LAB) gave its nod and filling of Mixed Oxides of Nitrogen (MON-3) of PS4 was completed Monday.
9) ISRO also created a record in 2008 for placing 10 satellites into various low earth orbits in a single launch.In 2014, Russia had launched 37 satellites in one go. The U.S. had launched 30 satellites in one go.
10) It will be the fourteenth flight of PSLV in 'XL' configuration (with the use of solid strap-on motors).
11)The 320 tonne PSLV C-34 carried 17 foreign small satellites from Canada, Indonesia, Germany and the US but the main passenger was a 727 kg Indian earth observation satellite called Cartosat, which can take images at sub-meter resolution.
12) On its 36th launch, the PSLV flew 20 satellites, weighing about 1288 kg, into space at a cost about 10 times less than other space agencies.
13)Till now, ISRO has launched 57 satellites for foreign vendors from about 20 countries, earning about $ 100 million in the bargain.
14)With this launch, ISRO is ready to take on private billionaires like Elon Musk and Jeff Bezos who have entered the space launch business and offer far cheaper space launches.
15)Polar Satellite Launch Vehicle (PSLV) has 'done it's job', said ISRO Chairman AS Kiran Kumar referring to a record launch of 20 satellites.etc.
16) The 1.5kg sathyabamasat from sathyabama University will collect data on green house while the 1 kg Swayam satellite from college of engineering, Pune will provide point-to-point messaging services to the HAM radio community.
17)Till date India has launched 57 foreign satellite successfully.
18)The PSLV rocket also carries an 85 kg M3Msat. from Canada.
19) The planet Lab's Dove Satellites are also earth imagine Satellites
20)The Idea behind Launching so many satellites is reducing cost of the mission etc..
Polar Satellite Launch Vehicle PSLV-C34 will be used to carry the satellites, including India's earth observation spacecraft Cartosat-2, from the second launch pad of the space centre.
Importance:- General Studies paper III (Science and Technology)